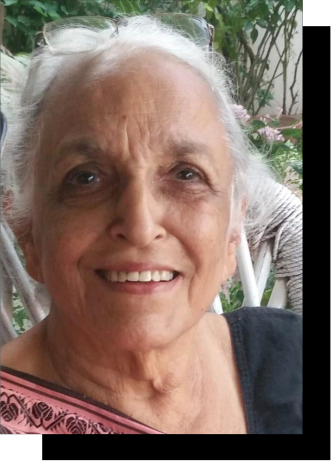 NEENA SINGH
Neena Singh is the Co-Founder and Executive Director of AKSHAR, integrated school started in 1999, where 20 percent of children have special needs but each child has a learning programme suited for their need. She started her career in Modern High School for Girls, and her belief in allround education and making a student realise their hidden potential culminated in the new concept of ED PLUS, a programme for children and Divyayan Montessori, Calcutta's first progressive integrated Montessori. She established Disha Foundation at Manoharpukur Road which admits children from economically weaker sections. She received The Ladies Study Group award from His Holiness Dalai Lama for her work in education. She also received the Talented Ladies Award, Vocational Executive from Rotary Club, Punjabee Bradee Person of the year Award and the Banga Seva Samman Award.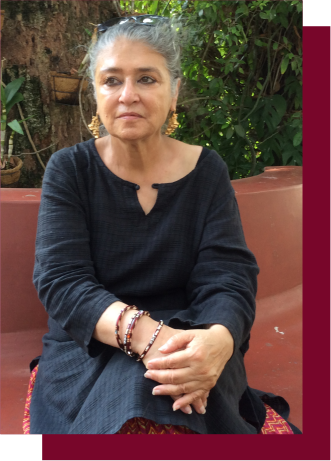 PADMASHREE NEELAM MANSINGH CHOWDHRY
Neelam Man Singh Chowdhry has a Master's degree in the History of Arts and a diploma from the National School of Drama. In 1979, she moved to Bhopal and was associated with The Rang Mandal, a theatre repertory attached to the Multi-arts Complex, Bharat Bhavan. In 1984, she moved to Chandigarh and established her own theatre company called 'The Company.' The group has participated in major national and international festivals. Alongside The Company, she has also been teaching in the Department of Indian Theatre, Punjab University and served as Chairperson for the same. Some of her well-known plays include Kitchen Katha, The Suit, Yerma, Nagamandala, The MadWoman of Chaillot, Little Eyolf, Bitter Fruit and Naked Voices. Dr. Chowdhry is the recipient of several awards including the Sangeet Natak Akademi Award in 2003, and the Padma Shri (2011). She is presently Professor Emeritus at the Panjab University.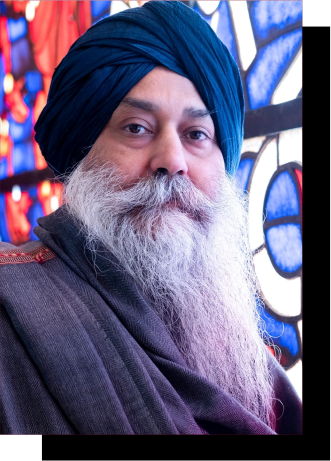 BHAI BALDEEP SINGH
Bhai Baldeep Singh is a pioneering polymath in cultural conservation. He renounced a career as a fighter pilot to revitalize the tangible and intangible wealth of South Asia, with a particular focus on the Gurbānī Sangīta Paramparā. Embodying the civilizational harvests and oral histories of twenty-seven grand maestros—both celebrated and neglected since Partition—Bhai Baldeep Singh became a treasury of GurSikhi, with a panoramic vantage and performative élan unmatched today. His efforts have safeguarded from the brink of extinction many original musical masterpieces whereby revelation graced the GurSikh Gurus, musical instruments and playing techniques of their endowment, and indigenous pedagogical processes through which rising generations of custodians are being minted once again. In service of his herculean mission, Bhai Baldeep Singh serves variously as a Kīrtaniā, percussionist, scholar, luthier, poet, scholar, filmmaker, teacher, activist, politician, web series host, and non-profit head at The Anād Foundation in New Delhi.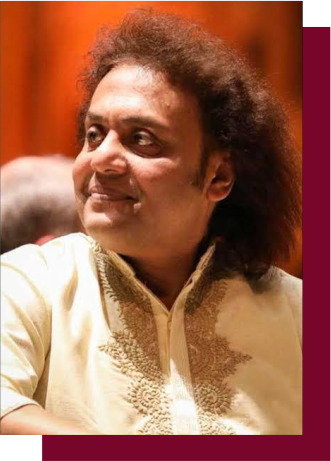 PT. TANMOY BOSE
Tanmoy Bose is one of the foremost musicians in contemporary world music and percussion. Bose received his early tutelage from the legendary Pt Kanai Dutta. Bose became the Gandabandh Shagird of the Farukkabad gharana Pandit Shankar Ghosh. When in college, he was called to perform with Ustad Amjad Ali Khan. Consequently, Pandit Ravi Shankar invited him to perform with him, worldwide. He is currently a regular accompanying musician of Dr Lakshminarayana Subramaniam and Smt Kavita Krishnamurthy for their world music projects. His music band Taaltantra, has been experimenting with Jazz, Indian Classical Music, Folk and indigenous drumming. His initiative Rhythmania, has incorporated Indian classical with Western and Mediterranean, Jazz folk and Electronic Dance Music. Bose has always been an ardent researcher and composer and created Dhwani, Beyond Borders, Taalyagna, Chaturang and Moksh, based on the nuances of Indian Rhythm. His Drumz Dreamz project and Hridmajhare deals with the concept of community drumming and indigenous music respectively.
FOLLOW US ON SOCIAL MEDIA